Welcome Home to 1206 Rio Grande Ct.
I have said in the past that the best home to buy is that of a REALTOR®. That is because we tend to know a thing or two about how to maintain a home and how to stage a home for sale. However, after touring my latest listing, I am beginning to think the best home to buy is that of an ENGINEER!
I call my clients magical. Everything just seems to happen magically with them. I asked them one time where the landscaping lights were located and if I could turn them on. Before I could turn around - they were on! And my clients were out of town!
Thanks to their cleverness, hard work, and tenacious attention to detail, they have turned their home into a stunning smart-home masterpiece.
The swimming pool was constructed in 2014. It is a saltwater system that can be controlled from your smart device. You can control the pump, spa, cleaner, and water features from the app. You can check the salt level from there as well. The LED lighting changes color to suit your mood or can be set to a pre-programmed theme, or it can be synched to your music.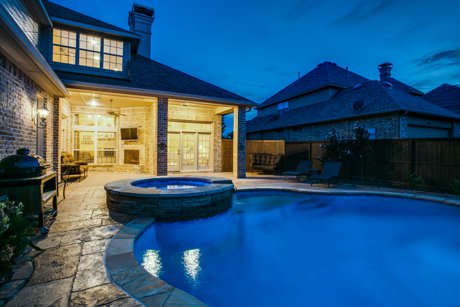 The thermostats are also programmable. The Ecobee system on the main level is Apple Homekit compatible. There are controllers added to both the main system and the upstairs system to allow for temperature control from multiple locations.
The owner installed Wemo light switches and outlets. These programmable switches can be controlled from your smart device and programmed for your needs. As you enter the home from the front or the garage, simply press and hold the Wemo switch at the door and turn on all the connected lights. They can also be programmed to sense when your phone is in range and turn on when you pull up to the house.
If security is your concern, take comfort in knowing that this home is 360 degree completely monitored by security cameras. The data is stored on a server and available to you to view from anywhere. You can even check to make sure you closed the garage from your smart device.
Ready to see this up close and personal?
Contact me today for a showing. You don't want to miss this!