What is multi-generational housing?
Multi-generation housing is built to accommodate different generations living under the same roof. This can be accomplished simply by building bedrooms with private bathrooms or splitting the bedrooms to different sides of the home. It can also be accomplished by building a suite within the home that includes a private entrance, kitchenette, living space as well as bedroom and bathroom. Forbes recently put out a great article on the subject.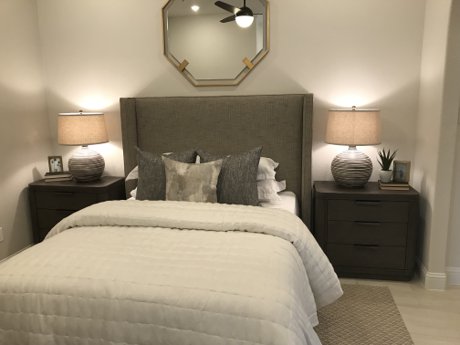 What are possible uses for a multi-generational house?
There are many uses for this type of living situation: taking care of aging parents; housing an older child in college or just starting out; taking care of older special needs family members; providing housing for a nanny, missionaries, etc.
Looking for a multi-generational home?
I have seen many newer developments incorporate these homes into their offerings in a neighborhood. Darling Homes Cornerstone Collection 7490 Plan can be found in several locations around the metroplex. I have toured them in Lawler Park and Estates of Shaddock Park. Lennar is also building these homes. They have jumped into this trend and put it in the spotlight in their marketing materials. I can help you find a home to fit your needs. Contact me for information on how to get started.
My interview with a homeowner of one of these homes...
Several weeks ago, I had lunch with my good friend, Stacy from Texas Pioneer Title. She invited me to come and tour the home that she and her husband built for their family and for her parents. They live in a Darling home in Frisco. The home is incredible and the suite for her parents is so practical and comfortable. Here are three things I learned from them during my visit.
Overcoming Objections
When Stacy and her parents began talking about the idea of building a home where they can live together, it was difficult for the parents. They were reluctant to live together. Truth is, both sides were hesitant to give up their independence. Everyone was pleasantly surprised at how well it worked. Once they established habits, they overcame the awkward situations of whether or not to say goodnight, or tell each other where they are going, or inviting the other party to dinner.
Assigning Expenses
Figuring out costs was another challenge they had to work out. Since a multi-generational home is technically a single-family residence, there is only one property tax bill, one set of utilities, and a single entity to insure. Stacy and her family decided to split the costs by a percentage of total square footage. Her parents pay a proportional amount of the global expenses. They all agree that it comes out much more cost effective for her parents to live there than any apartment or retirement community.
Managing Households
Keeping up with two households under one roof was another aspect of life that posed a challenge. Stacy's family quickly figured out that a shared Google calendar made life much easier. Everyone inputs their appointments and events. If anyone needs help from another family member for a ride they are invited to the calendar event. They all feel like this has enabled them to function quite well.
The elephant-in-the-room question
There really isn't a good way to approach this, but the thought that came to my mind when I first started investigating these style of homes. I asked my friend what the plan was for the space when her parents were no longer able to live there. She had definitely considered that situation. Her hope is that it be used as guest quarters for when her adult children and grandchildren visit. They are also huge supporters of missionaries. They plan to use the space to host missionary families that come home to Texas for brief visits. Finally, they hope to one day transfer the home to one of their children and then move into the parent's suite.
Is This The Home For You?
If you are considering one of these types of homes, give me a call. I can scour the MLS to find these homes when they go on sale.