Take a Look at the Year-End Market Data
A Year In Review
2019 was another great year in real estate. We continue to see the market operating in a balanced mode. This is great news for both buyers and sellers.
What does the data mean for 2020?

We have studied the data and the number one thing we learned from 2019 is that current buyers are very picky. Therefore, our focus in 2020 will be to help you to improve your home's value. Whether you plan to sell your house this year, or stay in it for the long-haul, there are some smart improvements you can make.
Our last post gave you plenty of tips on how to make improvements to your bathroom. Kitchens and baths sell a home and in this market - you need to be ready to compete!
Latest Market Indicators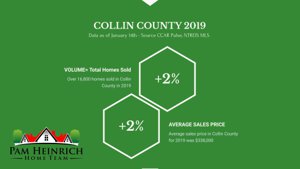 Let's not forget about our December numbers. Check out the guide below to see how Collin County performed in December 2019.
Are You Ready to Make a Move?
Are you thinking of selling your home soon? Want to know how to market your home so you can get it sold quickly? We've got tips and strategies to help you succeed. ⭐⭐⭐⭐⭐Check out how over 100 people agree! ⭐⭐⭐⭐⭐ Give us a call.